When Your Ice Dam Bursts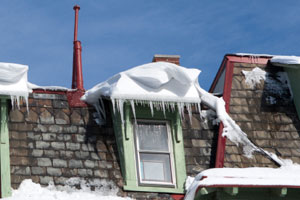 Damage from ice and ice-dams:
Rip gutters from your home
Raise, crack and swell roof shingles
Damage roof sheathing
Ruin attic and wall insulation.
Destroy ceiling and wall drywall and paneling
Warp floors and soak carpeting
Stain surfaces, such as upholstered furniture
Short electrical circuits, causing circuit breakers to trip and fuses to blow
Call First Class Property Restoration! Fast action can save hundreds, even thousands of dollars in damage due to ice dams! First Class Property Restoration is ready to contain the water flowing into your home and to move valued items out of harms way. By getting a fast start, we can immediately begin drying and cleaning items to prevent damage due to mold and staining.
Call 1-855-567-0274 for an ice dam remediation and repair in Princeton, Toms River, Jackson
It may come as a surprise, but water is one of the most damaging substances a homeowner can confront.
Our remediation services include:
Water removal, including from area you can't see
Drying equipment that helps prevent warping and swelling of floors and furniture
Air movers that evaporate moisture from surfaces, including carpeting
Sanitizing agents that prevent the growth of mold
Dehumidification
Emergency roof repair
Our trained technicians can assess the damage an ice dam on your roof has caused and work with your insurance company to get all the problems fixed. Once the leaking has been stopped, we can explain what steps to take so the problem never happens again. The nice thing about ice dams is that they can be fixed, permanently!
What causes ice dams anyway?
Ice dams develop when heat escapes from your attic and begins to melt snow that has built up on your roof. The snow is melting from the bottom up, so you can't see the water up there! As the water flows down the roof, it may refreeze when it passes over a cold expanse of roof. This typically happens at the eaves (the lowest edge of the roof) because eaves protrude beyond the wall of the house, making them less susceptible to the warming effects of heat leaks.
A large ridge of ice forms as water refreezes at the eave. The buildup of ice may extend over the gutter, but this ice is not what's causing water to leak inside your home. The leaks are coming from water that has pooled behind the ice dam. Roofs are not designed to hold water, just to shed it. So when a pool of water sits on your roof, some of that water will find its way under shingles where it can drip through nail holes and sheathing joints. Once inside, the water will find its way into ceiling assemblies and walls. When they have become saturated, the water enters your house.
Repairing and Preventing Damage from Ice Dam Leakage
Once the immediate threat of ice dams has passed, First Class Property Restoration can repair drywall damage to walls and ceilings as good as new. The ultimate solution is the installation of an ice and water shield under your roof shingles, but this is typically not feasible until you are ready to reroof your home.
In the meanwhile, we recommend careful air sealing and insulating of the floor in your attic. Common culprits for leaking heat include, vent pipes, recessed light fixtures, chimneys, attic access ways (pull-down ladders and hatches), heating ducts, and bath and kitchen exhaust vents.
Tips to prevent ice dams
Make sure soffit vents are not blocked by insulation. A well-ventilated attic is a cold attic, and a cold attic will not support the formation of ice dams.
Keep gutters clear of leaves. A clogged gutter causes ice and snow to build up, which may, in turn, cause snow and ice buildup along your eaves.
Install snow and ice slides on affected eaves. The slick metal allows snow to slide off the roof before it can melt and spawn an ice dam.
Remove snow accumulation from the first two or three feet of your eaves using a snow rake. It is often best to call in a contractor for this task.
Looking for a price? Get a no cost, no obligation free estimate.