Expert Attic Mold Removal & Remediation in Toms River, Edison, Freehold & Nearby NJ
Prevent expensive damage to your home with expert mold cleanup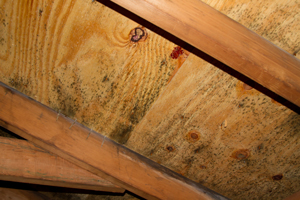 Leaky roofs have perfect conditions for mold growth.
If you have mold in your attic, problems with roof leaks, condensation, leaky ductwork or poor ventilation are likely to blame. Surprisingly, the attic is one of the most common places for mold to develop, but it is also one of the most likely places for the mold growth to go unnoticed.
If you've come across signs of mold in your attic, contact the mold remediation experts at First Class Property Restoration. We conduct thorough attic mold inspections to identify moisture and ventilation issues, then provide complete mold removal and remediation services. We proudly serve Toms River, Edison, Freehold, and nearby New Jersey.
Call us today at 1-855-567-0274 or click below to request an inspection and get a free estimate to remove the mold in your attic.
How mold affects your attic
Causes of Attic Mold
Roof leaks
Poor ventilation
Warm air escaping from living space
Leaky ductwork
Bathroom fans & appliance vents exhausted into attic
Inadequate insulation
Ignoring a mold issue in your attic can affect the resale value of your home and cost you a lot of money in repairs.
Attics have fiberglass insulation, wood framing, and sometimes drywall and carpet, all of which make great breeding grounds for mold. When warm air gets into the attic, it meets the cold surface of the attic walls and roof sheathing, and condensation forms, eventually leading to mold in the attic. A leaky roof greatly increases the chances of an attic mold problem.
If a moisture problem is present, mold can continue to grow and spread throughout your attic. Here at First Class Property Restoration, we can inspect your property to find what's causing the mold. We have the training, equipment, and expertise to effectively remediate the mold in your attic space.
Trust the experts to treat the mold in your attic
When you discover a mold problem in your attic, it's important to choose a company that understands mold growth and how to properly remove the mold and repair any damage. We use advanced equipment and procedures to detect water damage and capture mold spores to ensure safe mold removal and remediation.
We provide free estimates on all mold remediation services in Englishtown, Lakewood, Marlboro, Jackson, Piscataway, Edison, and many surrounding areas. Contact us today to schedule your inspection and get a free estimate for the cost of your mold remediation project.
Looking for a price? Get a no cost, no obligation free estimate.